Robots
Robot units
Each Robot Factory level provides 1 Robot Unit for your mines. Each Terteth Factory level provides 3 Robot Units. You can send these units into your mines with limitation of maximum 10 units per resource type.
Each Robot unit provides:
Metal mine – plus 5% of the base income
Crystals mine - plus 4% of the base income
Gas mine - plus 3% of the base income
How to allocate a Robot unit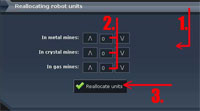 You can allocate or reallocate your Robot units according your current needs.

Click with your mouse somewhere out of the field to refresh the actual count of the units. Then allocate the units as you like and save the changes.