Destroyer
Destroyer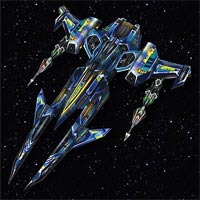 Highest class battleship. The Destroyer is produced to dominate over any other ship on the battlefield. Equipped with the latest developed war technologies of the empire - a large arsenal of proton torpedoes, lots of lasers and ion weapons, but the heart of its fire power is its dual plasma gun. They are a warranty for the destruction of every ship from a lower class. The defence consists of multilayer titanium armor and two levels of plasma shields. Here comes the well known problem – ultra weight. In testing only the ultraspeed engines show the needed results. Six engines are necessary to make the ship move but even then it is quite slow and unable of maneuvers.
Purpose: War ship class Requirements: Shipyard(level 9)Hyperspeed engines(level 6)Ultraspeed(level 6)
Stats
Cargo: 2000Attack: 12500Ship hull: 125000 Speed: 5000Gas consumption: 1000 Cost: 60000 Metal, 50000 Crystals, 15000 Gas Weapon: Plasma; Armor: 18% Heavy;Improvements in Factory: 11% per level.
Factory upgrades:
| Level | Metal | Crystals | Gas | Attack | Ship Hull |
| --- | --- | --- | --- | --- | --- |
| 1 | 50 000 | 30 000 | 10 000 | 13875 | 138750 |
| 2 | 100 000 | 60 000 | 20 000 | 15250 | 152500 |
| 3 | 200 000 | 120 000 | 40 000 | 16625 | 166250 |
| 4 | 400 000 | 240 000 | 80 000 | 18000 | 180000 |
| 5 | 800 000 | 480 000 | 160 000 | 19375 | 193750 |
| 6 | 1 600 000 | 960 000 | 320 000 | 20750 | 207500 |
| 7 | 3 000 000 | 2 000 000 | 1 000 000 | 22125 | 221250 |
| 8 | 6 000 000 | 4 000 000 | 2 000 000 | 23500 | 235000 |
| 9 | 10 000 000 | 5 000 000 | 2 500 000 | 24875 | 248750 |
| 10 | 20 000 000 | 10 000 000 | 5 000 000 | 26250 | 262500 |